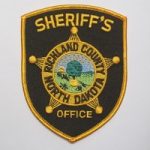 The Richland County Sheriff's Office responded to a crash involving a pair of semis at the intersection of County Road 81 and County Road 10 at approximately 2:42 p.m. on Thursday.
A Kenworth semi, driven by 31-year-old Jace Davis of Erhard, Minnesota, was heading east on County Road 10 and was approaching the intersection with County Road 87 when he slid into the intersection and hit a semi.
The semi, which was driven by 44-year-old Dustin Maanum of Fergus Falls, was traveling north on County Road 87.
Both vehicles entered the east ditch and are each considered a total loss. Both drivers were taken to St. Francis Hospital with unknown injuries.
Along with the Sheriff's Department, Dwight Fire Department and Breckenridge Ambulance responded.
The accident remains under investigation.