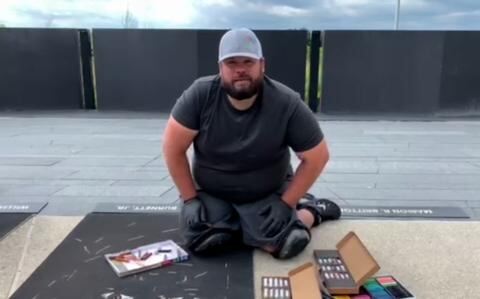 A North Dakota artist is part of a special team at the Flight 93 National Memorial in Pennsylvania, as thousands gather there for 9/11 ceremonies
As a way to remember those lost on the plane 20 years ago, a Wahpeton native Shawn McCann and other artists are remembering the victims of Flight 93 in a very unique way.
"It has really been quite the honor to be a part of this," McCann said. "It has been emotional. We met some of the family members and went to the crash site with some of the family members."
"We are each creating two, three-by-five-foot portraits a day," McCann explained. "We have two days to create all 40 of the images."
Wahpeton native and artist Shawn McCann working on chalk art to honor those who lost their lives on Flight 93.Submitted photo
For the last few days, McCann and a few other select chalk artists were given the names and photos of 40 passengers and crew. Then they went to work. One of those people who Shawn spent time drawing was Minnesotan Tom Burnett Junior, and LeRoy Homer Jr, a pilot that day on Flight 93.
The chalk art will be displayed at the memorial throughout the 20th Anniversary ceremonies this weekend.
McCann now lives in the Twin Cities making a living with his art. He hopes his work with the memorial chalk art will resonate with those who see it.
"You just utilize the knowledge you have gained over the years and put your heart and soul into it an hopefully do them justice."