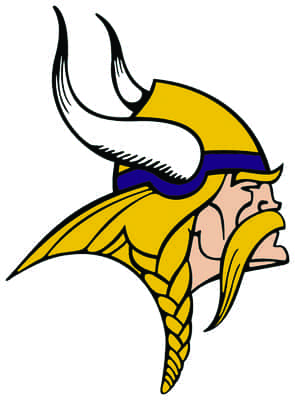 Andrew Zimmel KBMW 1450
There are two days of the year that rank ahead of every other day on the sports calendar. Days that every fan have circled on the calendar. The biggest day? The Super Bowl. The crowning of a champion after almost six months of grinding. The highs and the lows of the season all come together on the biggest day of the year where fans from all walks of life come together to celebrate America's Game. 
The second biggest day- Kickoff Sunday. The beauty of the NFL is that all 32 fan bases have one thing in common. Hope. From sea to shining sea, fans tune into the noon kickoff and don't get off their couches until the closing horn of Sunday Night Football. It's the end of productive weekends and mid day brunches. Every Sunday until February is now booked with a slate of games. It could make a grown man cry. 
The Vikings opened their season on the road, so instead of getting to enjoy the friendly confines of U.S. Bank Stadium, I get to watch the games on my 32 inch TV from my apartment. The pros outweigh the cons though. What press box in America is serving fresh doughnuts and chocolate milk? None of them.
Cincinnati won the toss and deferred, so the Vikings take the opening kickoff. The Vikings season is officially underway- and just like the Vikings the first play of the game is a false start. It's good to be back. 
We are still waiting to hear back from our research department on whether deferring to the second half matters. It feels like the guy who says "he doesn't care" where you eat on a road trip. Everyone cares where they want to eat, and every team knows if they want to kick or return to start the game.
Kirk Cousins is second all time in completion percentage for a career behind only Drew Brees according to the broadcast. And my first thought when I saw that was "is it possible that two of Viking fans' least favorite quarterbacks are also two of the most accurate?" After a four and out, the Vikings defense gets their first chance to take over. The defensive unit wasn't good last year and that's something that Head Coach Mike Zimmer and the staff worked to fix with the addition of  Cornerback Patrick Peterson and in the draft. 
Sophomore Quarterback Joe Burrow has some of the best offensive weapons in the league between Tee Higgins, Joe Mixon and his college teammate Ja'Marr Chase- but on 3rd and 12 he throws underneath to Tight End C.J Uzomah? Part of that is the Vikings defense swallowing up everything in front of them and part of that is when you pressure a QB, who is young and playing on a reconstructed knee, he's going to want to get rid of the ball. Quickly. 
The Vikings trying to establish the run early is admirable. The phrase "run dominate offense" gives me the chills though. When Adrian Peterson was running behind the offensive lines of the 2010's- the Vikings won the division once. Now, I'm not saying that Cook can't be the type of running back that you can push all the chips in the middle on, I'm just saying that establishing the run is overrated. 
All @athielen19 does is score TDs

📺: @NFLonFOX pic.twitter.com/MJxdyPfEK5

— Minnesota Vikings (@Vikings) September 12, 2021
Adam Thielen was able to connect with Cousins and got the first touchdown of the game. A 14 plays 91 yards score that gave the Vikings their first lead of the season. I do appreciate how Cousins targets Thielen early in games. He has turned into one of the best rout runners when he's healthy- and when he's not being double covered he actually makes some pretty good catches too. 
YOU CAN'T STOP 85! @JoeyB to @teehiggins5 for our first touchdown of the season.

📺: #MINvsCIN on FOX pic.twitter.com/tPmzXSR8dO

— Cincinnati Bengals (@Bengals) September 12, 2021
I had a feeling that coming out of the two minute warning the Bengals would be able to make something happen. The most dangerous time in the game for the Vikings every season feels like it comes right after the break. It always feels like other teams are able to score coming out and the Vikings defense never looks ready for it. Burrow and Tee Higgins connected on the two yard pass to tie it up with 1:47 left. 
.@Real10jayy__ saw that ball and took it to the HOUSE.

📺: #MINvsCIN on FOX pic.twitter.com/T9jt61X2w9

— Cincinnati Bengals (@Bengals) September 12, 2021
A three and out gave the ball back to the Bengals a little over a minute remaining in the half. This is Cincinnati, not the Packers, not the Bucs, not the Rams, there should be zero reason we allow a score…..and they just let Ja'Marr Chase score a 50 yarder with 35 seconds left to make it 14-7. This is going to be a long season if wideouts burn every Vikings defensive back. The Vikings go into halftime with five punts and two scores. Jefferson has two catches. Panic meter- at four. 
Top info: Fox Sports Jen Hale noting the heat in becoming a factor in Vikings/Bengals game. Hale reported that Tee Higgins was carted off to get an IV due to dehydration and Viking players were using sunscreen.

— Rudy Martzke (@FakeRudyMartzke) September 12, 2021
My hope for the second half: Get Jefferson and Thielen more involved. Coming into this one I don't think anyone thought the Bengals secondary was lockdown, but somehow we aren't able to get anything going on the ground or getting the ball out to convert first downs. 
It's good to have you back, @Joe_MainMixon!

📺: #MINvsCIN on FOX pic.twitter.com/12DC9cgNO8

— Cincinnati Bengals (@Bengals) September 12, 2021
The Bengals took the opening kick and drove right down the field, converting two third downs and a fourth down (how aggressive of them) to score on a Joe Mixon run. Mixon is never in the conversation with Cook/Christian McCaffery/Alvin Kamara as those do everything running backs that good teams want. He needs to be, especially after the way he's been able to make this Vikings team look. Cincy leads 21-7 and I'm starting to sweat a little. 
.@athielen19 takes it in for 6!

📺: @NFLonFOX pic.twitter.com/2CrNm8cSca

— Minnesota Vikings (@Vikings) September 12, 2021
With 2:30 left in the quarter the Vikings were FINALLY able to get on the board again. Good, I was getting nervous. The Bengals have been the more aggressive team all game. On defense they sell out, on offense they have been running hard and making the big plays. If Joe Mixon were able to convert on 4th and 1 from their own 30 then I would have said pack it up and go home because there is no way this team would come back. Instead, the turnover on downs gives the Vikings a chance to cut the lead to seven and they do with another Cousins-Thielen connection. Fantasy owners rejoice. Vikings trial 21-14
The Bengals were able to push the ball down the field and kick a field goal to make it 24-14. I have no idea what the problem is with the defense yet, but if this is a trend that goes on all season I will have heart failure. You have to make a stop at some point, or you have to get a better offense so that you can boat race teams. This team is not built for "whoever has the ball last wins" games. 
.@DHunt94_TX is a MONSTER

📺: @NFLonFOX pic.twitter.com/LmZnQTRB3R

— Minnesota Vikings (@Vikings) September 12, 2021
And for the first time since kickoff, I am feeling…hopeful? A rare emotion when talking about the Vikings. A ten play, 75 yard drive is capped off with Davlin Cook touchdown run. Cook hasn't looked great all game, but fans of the team know that Cook is a second half of the season running back. If you need 100+ yards and multi scores in Week 14 he's your guy. If you need a yard in Week One, well he got the job done on this drive. 
It wouldn't be a Vikings game if it didn't come down to a kicker. Is there any team in the history of professional sports in America that is as tortured as this franchise is with the gimmick plays? The Vikings have had handfuls of the greatest athletes to ever grace the gridiron wear the purple and gold, but when it comes to the player who has to kick an egg shaped ball through to posts- forget about it. The Vikings got the ball back with 1:47 left, and for them to even be in a position to tie the game is a miracle after the way they've played today. 
From 53 yards, Greg Joseph lines up. This is Joseph's fourth team. Teams for kickers in the NFL are kinda like marriages. The best kickers might have two teams max, but when you are on your fourth or fifth team, it might be time to look in the mirror. I have so little faith in Joseph that I actually got up to make a sandwich when the Bengals iced attempted the first ice attempt. I don't care about jinxs. I don't care able staying in the same seat. I have zero superstitions when it comes to Vikings kickers. I've been hurt too many times.
From 53! 🙌 https://t.co/zjw6lX9GIv

— Minnesota Vikings (@Vikings) September 12, 2021
Oh. My. God. He actually made it. FREE FOOTBALL! The two best words in the English language. 
The Bengals started overtime with the ball, and by some miracle the defense was actually able to make a stop. I don't know what Coach Zimmer said to them on the sideline but the front got their best push of the game and was able to sack Burrow for a six yard loss to push them out of field goal range. 
Kirk Cousins being Kirk- throw a seven yard underneath route when you need 11 yards to convert on third down- Cousins. It's good to have you back. Vikings punt it back to Cincy and now whoever strikes first wins. I have everything crossed at this point.
I'm glad that the Bengals have poor play calling on their sidelines too. It's the vintage "nobody wants to win this game" game. Glad we are seeing it in Week One. Get it out of our system for the rest of the year. Run-Run-Pass when you have Burrow and offensive weapons that have torched Minnesota all day? Thanks Cincinnati. 
The last offensive possession and the way this game ended drove me so crazy that I actually had to write this notebook the next morning because I was so upset. I don't get upset over sports anymore. That's not me. This last four minutes made me see red. 
Firstly, a check down to CJ Ham in overtime is the most Kirk Cousins thing ever. Period. End of story. Game on the line, a check down pass. Secondly, that was in no way a fumble. Because this game is between two teams that missed the playoffs last year you will not see the outrage that it deserves, but no way was that a fumble by Cook.
Ruled a fumble on the field but Dalvin Cook may be down pic.twitter.com/aztBJHhF2b

— Sean Borman (@SeanBormanNFL) September 12, 2021
Lastly, I am tired of when plays don't go the Vikings way knowing that whoever is coming on the field won't be able to make the play. I want just a little confidence in Minnesota. Vikings lose Week One 27-24 in Overtime. 
FOR. THE. WIN.

Bengals survive OT against the Vikings 🐅

(via @Bengals) pic.twitter.com/E09TUvSWHi

— Yahoo Sports (@YahooSports) September 12, 2021
As long as the Packers get stomped, we'll be fine. A weekend tradition like no other.