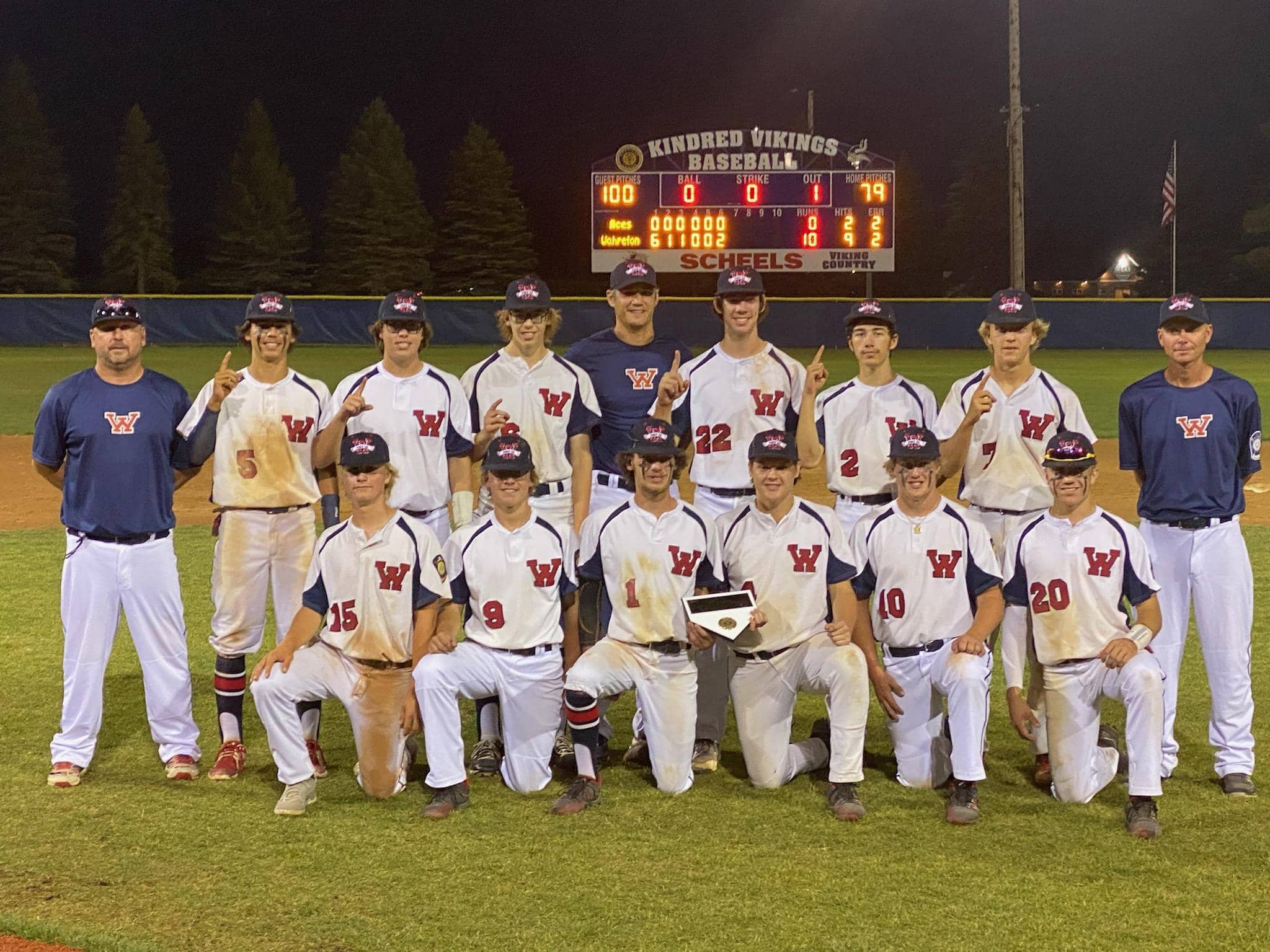 Wahpeton Post 20 capped off a dominant run in Class A East Division baseball with a 10-0 win in six innings over the West Fargo Aces in the championship game Saturday of the Class A East Region tournament in Kindred.
Wahpeton went 3-0 in the tournament, beating host Kindred 1-0 on Thursday and the Fargo Post 400 Astros 6-3 on Friday to reach the championship game.
Post 20 got a dominant pitching performance by Hunter Wamre in the opener. The righthander went the distance, allowing just four hits in the shutout while striking out three.
Wahpeton scored its lone run of the game in the first inning on a single by Ethan Manock to score Gavin Schroeder, who had also singled. Schroeder and Manock each had two hits in the game as Wahpeton totaled six.
Wamre needed only 87 pitches for the shutout, throwing 56 for strikes.
Fargo scored twice in the third inning of Friday's game in what turned out to be the only time in the tournament Wahpeton would trail.
Post 20 scored twice in the bottom of the fourth on a Fargo error and a single by Schroeder, all with two outs.
Wamre drove in Manock with a single in fifth for a 4-2 lead.
After Fargo pulled within a run with a homer in the top of the sixth, Jackson Fliflet's two-out single scored Isaac Loosmore with Fliflet later scoring on a passed ball for two insurance runs.
In the championship game, Jayden King allowed just two hits over six innings, both coming in the sixth, and Post 20 jumped out to a 6-0 lead in the first inning to take control against the West Fargo Aces.
Wahpeton sent nine men to the plate in bottom of the first. Manock doubled home two runs with Wamre singling home one, Tori Uhlich drove in a run with a fielder's choice and a run scored on an error.
Wahpeton added single runs in the second and third and two in the sixth to end the game by the 10-run mercy rule.
King, making his first appearance on the mound in the tournament, struck out six and walked two to go along with the two hits.
Schroeder and Riley Thimjon had two hits on offense while four Post 20 players drove in at least one run.
Wahpeton, now 32-6 on the season, will be the No. 1 seed from the East at the state tournament and will open the tournament against the Bismarck Caps on Friday at 11 a.m. at Jack Brown Stadium in Jamestown.
Here is the complete state tournament bracket:
N.D. Class A State Tournament
At Jamestown
Seeds in parentheses
Play-In Games
Friday, July 30
G1 – (1E) Wahpeton vs. (4W) Bismarck Caps, 11 a.m.
G2 – (2W) Minot Metros vs. (3E) West Fargo Vets, 1:30 p.m.
G3 – (2E) West Fargo Aces vs. (3W) Bismarck Reps, 4:30 p.m.
G4 – (1W) Jamestown vs. (4E) Valley City, 7:30 p.m.
Saturday, July 31
G5 – Game 1 loser vs. Game 2 loser, noon
G6 – Game 3 loser vs. Game 4 loser, 1:30 p.m.
G7 – Game 1 winner vs. Game 2 winner, 4:30 p.m.
G8 – Game 3 winner vs. Game 4 winner, 7:30 p. m.
Sunday, August 1
G9 – Game 6 winner vs. Game 7 loser, noon
G10 – Game 5 winner vs. Game 8 loser, 2:30 p.m.
G11 – Game 7 winner vs. Game 8 winner, 6 p.m.
Monday, August 2
G12 – Game 8 winner vs. Game 11 loser, 2 p.m.
G13 – Game 11 winner vs. Game vs. Game 10 winner, 6 p.m.
Tuesday, August 3
G14 – Championship: Game 11 winner vs. Game 13 winner, 1 p.m. (second game at 3 p.m. if needed)