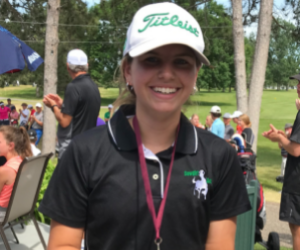 Breckenridge Cowgirl golfer Kennedy Schuler advanced to the Minnesota State Golf Meet on Tuesday.
The sophomore took fourth place in the Section 6A Meet hosted at Lakeside Golf Course in Perham with the top five finishers advancing to the state meet.
"Kennedy yesterday, along with today, had some really great shots and then some not to good of shots. She works very hard and is dedicated to her game," Breckenridge coach Cheryl Ferrell said. "Perham has some very challenging holes to finagle, especially the ones dealing with their ponds."
Schuler shot a 92 on Monday and a 90 on Tuesday for a total score of 182.
Schuler was one of two Cowgirls competing, along with her younger sister Kolle Schuler. It was the first section meet for the eighth grader, who fell short of joining her sister at the state meet.
The Minnesota Class A State Golf Meet is hosted in Becker. Schuler has a practice round Monday morning before beginning the two-day competition on Tuesday.