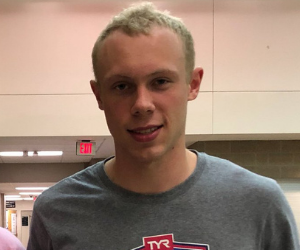 Eric Anderson, who began his accomplished high school career on the Wahpeton swimming team, has advanced to round two in the 50-meter freestyle at the U.S. Olympic Team Trials.
Anderson, who was a state champion on the Wahpeton team before transferring to Fargo Shanley where he racked up more state titles, took second in his heat on Monday at CHI Health Center in Omaha, Nebraska. He had a personal-best time of 22.57 seconds, which was .02 seconds behind Jack Armstrong in the WAVE I 50 freestyle final.
Anderson's 50-freestyle time ranks 18th all-time in the 17-18 age division for USA Swimming. He won three state titles in the race throughout his high school career with four more championships coming in the 100 freestyle.
The second round of Olympic Trials will take place June 13-20 in Omaha. The prelims are Saturday, June 19, with the finals on Sunday, June 20.