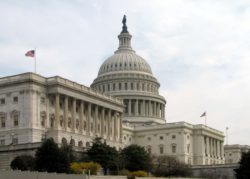 WASHINGTON, D.C. (NAFB) – The Senate Agriculture Committee will hold a hearing on Climate Change next week.
Committee leadership announced the hearing, titled, Farmers and Foresters: Opportunities to Lead in Tackling Climate Change. The hearing, planned for Thursday, March 11, follows a similar hearing held by the House Agriculture Committee.
Last week's House Agriculture Committee hearing on climate change focused on how farmers and ranchers can help lessen the burden. The hearing included comments from American Farm Bureau Federation President Zippy Duvall, who pointed out carbon sequestration, achieved through land management, contributes to greenhouse gas removals equivalent to 12 percent of total U.S. emissions.
Duval says, "with increased investment in agricultural research, we can develop the new frontier technologies to capture even more carbon in our croplands, our forests and our grasslands."
Addressing climate change is a priority of the Biden administration. The House and Senate Agriculture Committees are expected to discover ways farmers and ranchers can be part of the solution.