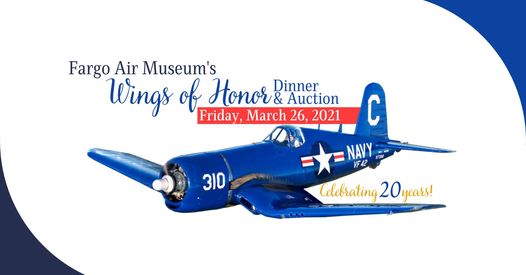 The Fargo Air Museum is hosting the Wings of Honor Dinner and Auction on March 26th, 2021.
Formerly known as the Celebrity Dinner and Auction, Wings of Honor Dinner and Auction has been a staple  fundraising event at the Fargo Air Museum for over a decade.
This year, the event also serves as a time celebration for the 20th anniversary of the Fargo Air Museum.
This years featured aircraft is the Vought F4U Corsair, an American fighter aircraft used primarily in World War II and the Korean War.
The Corsair in attendance is owned by Cindy and Whitney Beck and the late Gerry Beck of Wahpeton who was one of the founding members of the Fargo Air Museum.
The aircraft will be flying up from the Wings of the North Museum in Eden Prairie, MN and will be on display prior to the event.
For more information on tickets call the Fargo Air Museum at 701-293-8043.