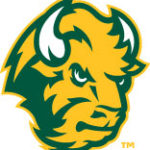 North Dakota State has secured a football game this fall. According to Pete Thamel of Yahoo Sports, a contract has already been signed for an Oct. 3 game with the Bison hosting the Central Arkansas Bears.
After failing to secure three non-conference games for the fall, NDSU sent its players home on Friday, Aug. 14.
Along with Central Arkansas, Jacksonville State's athletic director also said their team was open to playing NDSU.
Thamel referred to it as a "showcase game" for Bison quarterback Trey Lance who is projected as a possible first-round pick if he decides to enter the draft.
The three-game contract also includes games on Sept. 16, 2023 and Sept. 20, 2025.