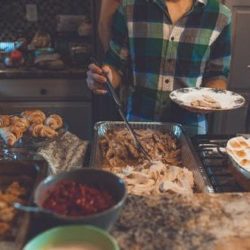 (NAFB) – Food prices in the nation's grocery stores continued to climb in September, helping to push the overall Consumer Price Index higher.
The food index increased .9 percent in September, following a smaller .4 percent increase in August. The food at home index increased 1.2 percent through the month as all six major grocery store food group indexes rose higher. The index for meat, poultry, fish, and eggs rose 2.2 percent during the month as the index for beef rose 4.8 percent. The index for other food at home rose by 1.1 percent.
The cost of fruits and vegetables also went up, as that index was .6 percent higher in September, a larger increase than the rise in August. The cereals and bakery products index jumped 1.1 percent during the month, while the index for dairy and related products rose by .7 percent.
It even cost people more to eat out during September as the food away from home index rose .5 percent. An increase in limited and full-service meals was offset by the index for food at employee sites and schools, which continued to fall, dropping 6.4 percent in September.