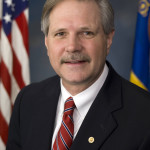 Synergy was a keyword used by North Dakota Senator John Hoeven while talking about the new ADM Soybean Crushing Plant to be built in the Spiritwood Energy Park.
Senator Hoeven spent more than two years working with the Jamestown Stutsman Development Corporation (JSDC) and Spiritwood Energy Park Association (SEPA) to bring the company to the Spiritwood Energy Park.
Senator Hoeven says once the facility is complete, he's hopeful for a partnership to grow renewable diesel, steam energy, and carbon capture to enable a working relationship with all entities at the energy park.
While serving as Governor, Hoeven helped the state position themselves to lead the country in the development and implementation of Carbon Capture, Usage and Storage (CCUS).
Hoven stated that they would hope to "crack the code" on carbon capture, just as the state had with the Bakken years ago.
The new $350 million ADM facility looks to be completed before the 2023 harvest, create more than 70 permanent jobs, and crush over 50 million soybeans per year.